Adult Content Filter Module
1. This module adds the ability for Administrator or Content Owner to flag content on the site as containing Adult Content..
2. The module also adds an option to the Profile of members so they can select whether or not to view adult content.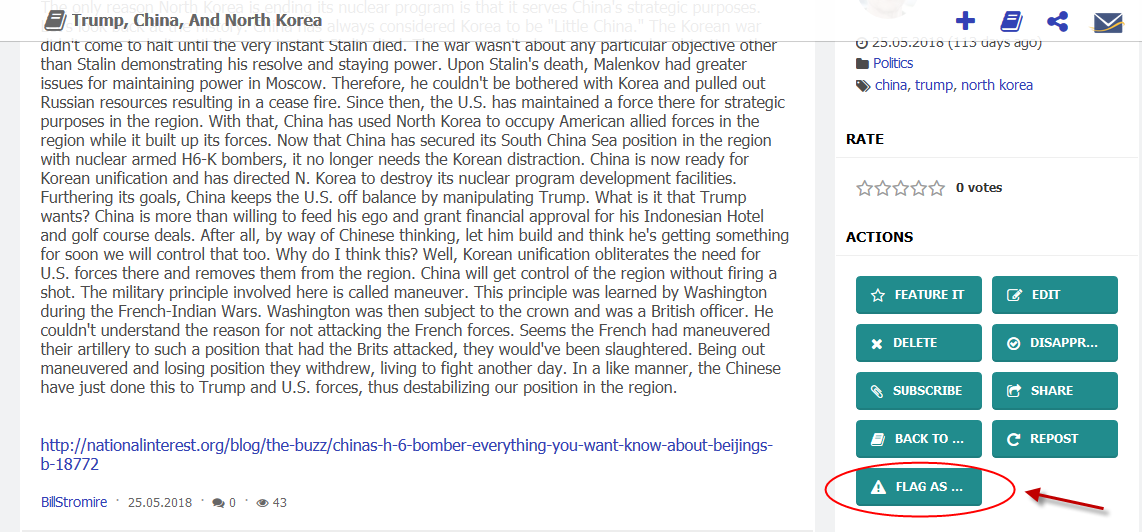 3. It is also possible for Administrator to manage Adult Content access based on membership level of member so the site can optionally show Adult Content only to Premium Members.
4. By default, this functionality is integrated with :
Profile
Ads
Blogs
Groups
Events
Polls
Sites
Photos
Video
Sounds

Advanced Contact Module
1. Advanced Contact form with improved functionality to give your site a more professional look.
2. PAGE BUILDER - The Contact page has now been added to page builder so you can optionally add additional blocks to the page if needed.
3. CUSTOM FIELDS - Admin now has the ability to add Custom Fields that will appear on the contact form. The following kind of fields are available
Single-line Text Input
Multi-line Text Input
Date
Single-Select List
Multi-Select List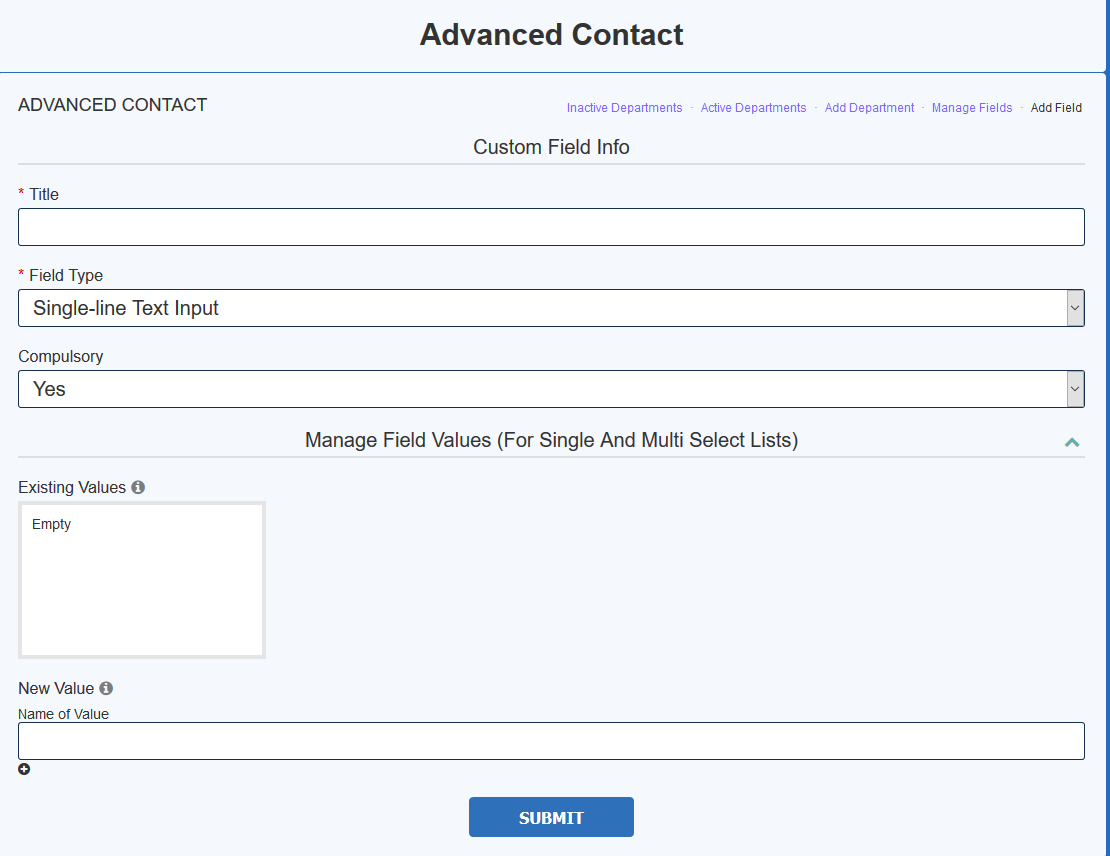 4. When custom fields are added, these will appear on the Contact Form and the data collected is also sent to the administrator.
Bets Module
1. This is an addicting and fun plugin that allows you to host Virtual Bets (no real cash involved) on your site. Points are used to wager. Both Administrator and regular members can create Bets.

2. Bets can be of Four Types :
Poll Bets This has a choice of multiple possible Answers with a single Correct Answer. The Correct Answer preset at the time of Bet creation.
Yes Way/No Way Bets These Bets are based on Opinions. Persons who are wagering will agree or disagree with the Topic and at the end of the Bet, the side with the most wagers will be the winning side.
Future Event Bets Future Bets have a predictable outcome and it involves guessing the outcome of some Event that will take place. For these Bets, the end date is usually immediately after the end of the Event. The Bet creator will enter the Correct answer after the Bet ends and the winners will then be determined automatically based on the answer entered.
Quiz Bets This type of Bet has the form of a question with a Single correct answer.
Course Module
1. This plugin allows Administrators or Members (if allowed) to quickly create courses/trainings that persons can access and take.
2.Ability to add individual Modules/Lessons. Each Lesson can have its independent media Gallery (Photos, Videos etc.)
3. All the details of a Course can be posted Online or it is possible to just advertise a Course that will be delivered at a specific location.
4.It is possible to also list multiple Venues for a Course.
5.It is possible to Post Reviews on Courses which includes Pros and Cons of taking the Course.
6.Course Reviews also includes Rating and Recommendation.
7.It is possible to setup a Course as recurring periodically.
Custom Privacy Module
1. Dolphin has a limited amount of Privacy Categories (Public, Members etc). Do you want to utilize the full power of privacy on your site ? If you do then this is the perfect module for you.
2.The mod allows you to create unlimited number of custom privacy categories based on the following options :
Gender
Couples (disabled for sites that has Couples feature turned off)
Age (Range of Age)
Country (multiple can be selected)
City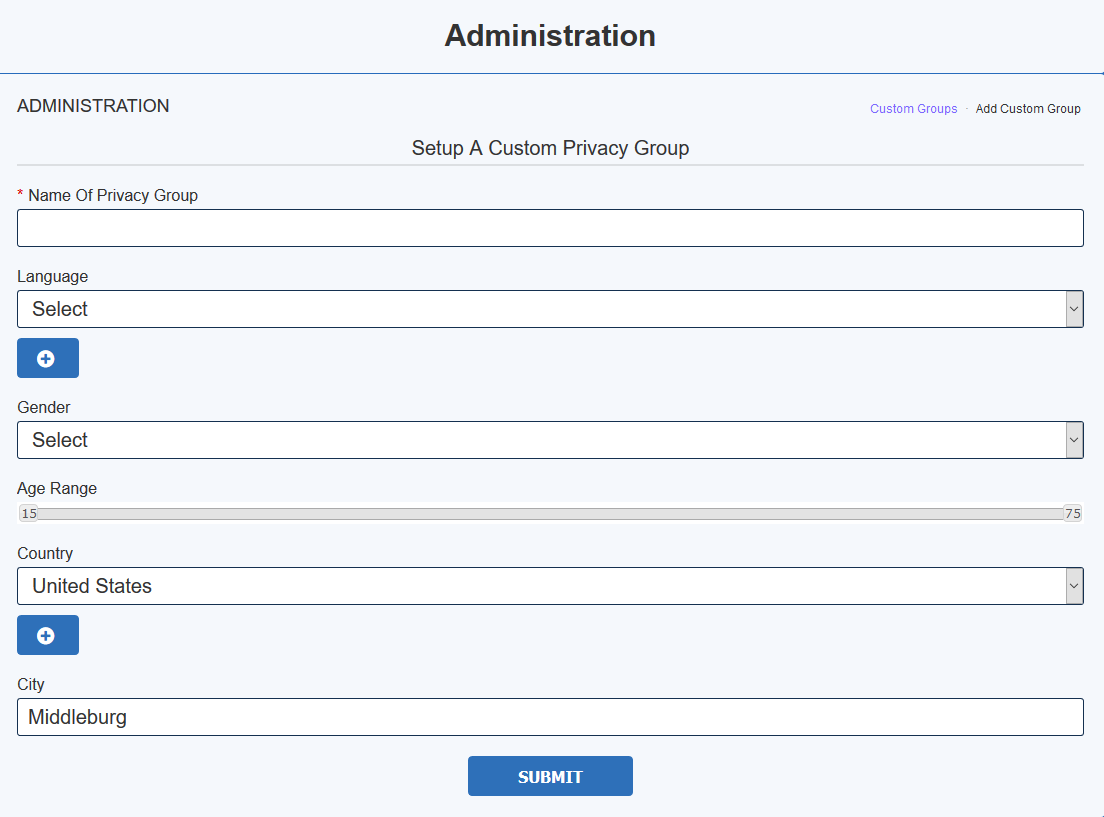 Diary Module
1. A Journal is the easiest way to plan and track happenings in your life. It facilitates keeping a daily record of news and events of a personal nature.
2. Journal helps with your upcoming plans and tasks, as well as keeping those memories with yesterday's thoughts and plans. Now your members will be able to maintain their own dairy online.
3.Journal entries can be one of five types :
BIRTHDAYS - Members can post entries about birthdays for their friends and family.
TASKS - Members can post entries about tasks that they need to complete.
ANNIVERSARIES - Members can post entries about anniversaries for themselves or others.
EVENTS - Members can setup an upcoming event with details such as start and end time, place etc.
JOURNAL ENTRIES - Members can post regular journal entries. They also have the ability to attach media (Videos, Photos etc) to these entries
4.REMINDER FEATURE When entering journal entries for Birthdays, Anniversaries, Tasks and Events, members can setup reminders to be sent to them at a preset time (eg. one week before).
People Who May Knows Module
1.Similar to Facebook and other popular social sites, this mod will identify friends of the existing friends of a member and randomly display them to the member.
2.FEATURES INCLUDE :
AJAX based interface for smooth interaction without page refreshes.
Auto-Magically shows random friends of your friends so you can optionally add them as friends also.
Allows Sending of friend request to those member you are interested in becoming friends with.
Allows removal of a suggested friend so that member doesn't appear in future suggestions.
4. Members can track the performance of their Campaigns on a daily basis by viewing graphs and tables with statistic information (impressions, clicks, etc).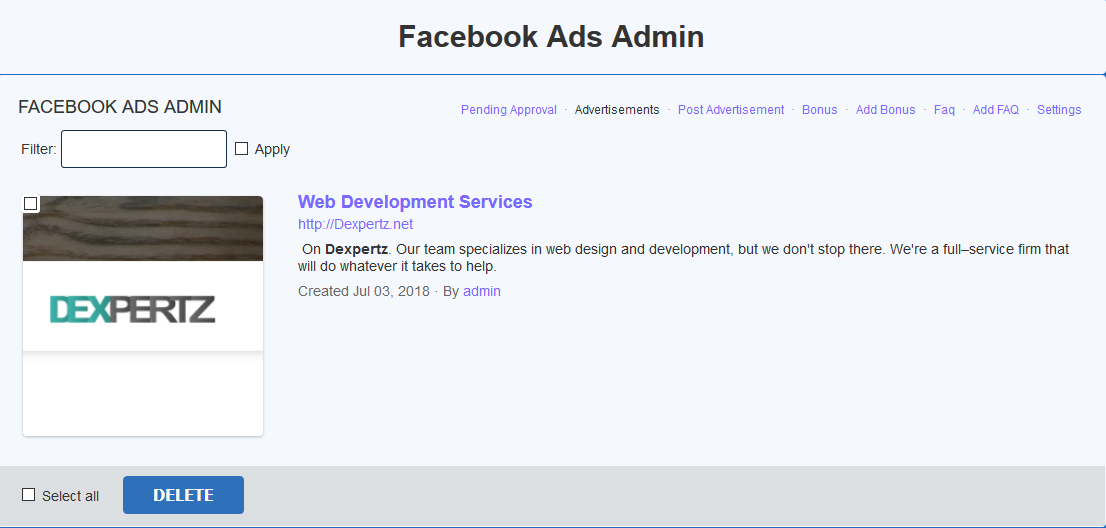 5.The Advertisement Block appears in the inactive section of all pages on the site.
Facebook Ads Module
1. This module functions in a similar manner to the Advertisement facility that exists on Facebook. Site members can publish Ads to targeted Audience.
2. Members can create Advertisements and publish Campaign on specific dates as they wish. It is possible to have multiple Campaigns with different criteria running for each Advertisement. A Campaign can be started or stopped as desired. When a Campaign has expired, it is possible to re-launch it by topping up the funds without the need to re-create a new Campaign.
3.There is the possibility to select from multiple payment plans. The available plans are : :
"pay per day" - Member purchases a number of days for which the Advertisement will be displayed.
"pay per impression" - Member purchases a number of page impressions.
"pay per click" - Member purchases a number of Ad. clicks.
4. Members can track the performance of their Campaigns on a daily basis by viewing graphs and tables with statistic information (impressions, clicks, etc).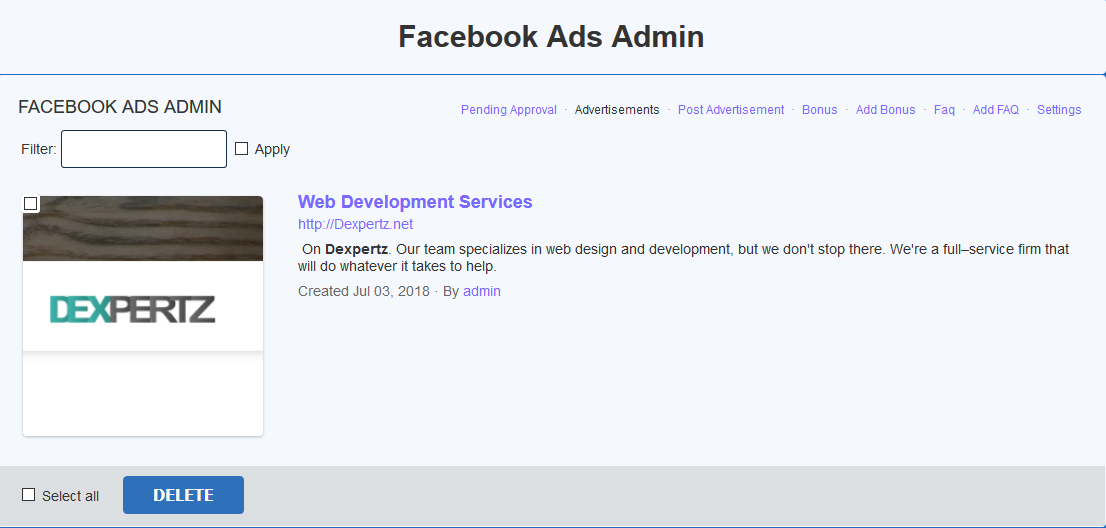 5.The Advertisement Block appears in the inactive section of all pages on the site.
Email Module
1. Side Patch Email Module , You Can set up Email Id yourname@sidepatch.com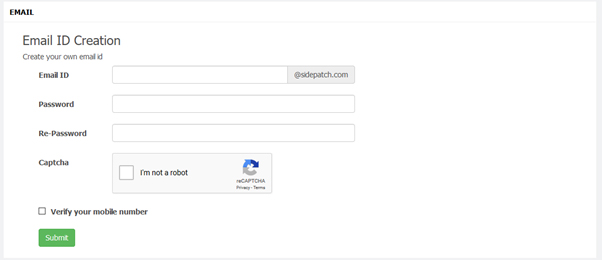 2. With Email Module, we can create Email ID with side patch server. You can quickly arrange and find important messages using starred messages.
3. Open your Email
4. In the left side bar, Click Compose, a New Email Box opens.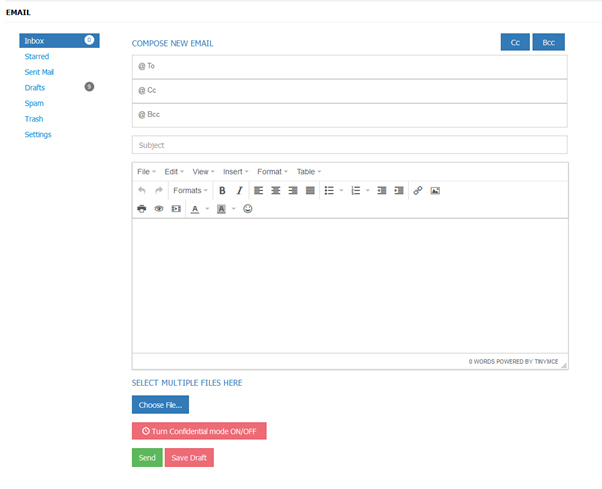 5. Specify Recipient Addresses, To, CC , BCC, Subject and Email Content.
6. Add Multiple Attachments, Save Draft, Add Link, Image, Emoticons, Insert Media and Formatting Text using Text Editor.
7. Confidential Mode can be set ON / OFF for Securing the Messages.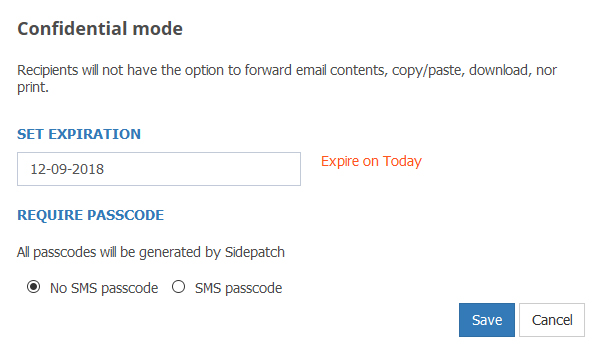 8. For Confidential Messaging, we can set Expiry date for the message to be viewed by the Recipient.
9. SMS Pass code can be set for opening the messages.
10. After The Expiry date, the message cannot be viewed by the Recipient.
11. You can flag Important messages by Starred Messages
12. Sent Mail, Drafts and Sent Mails can be Organised and viewed.
13. Password can be changed by Clicking Settings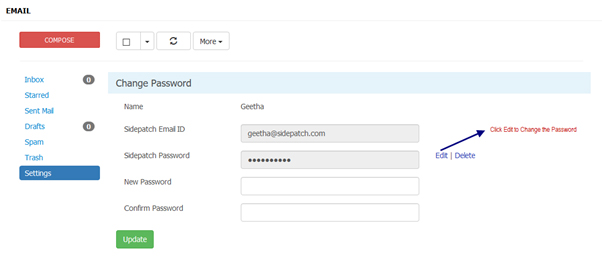 14. Email Module is secured with IP address and cannot be accessed with the other IP address and that need authentication.
15. If IP address changed, Email Access can be authorized by authenticating the Mobile Number Pass Code.
Social Connection Module
1.This plugin will allow members to add social connection links (social media icons) to their profile page. By default, the following connections can be made :
Facebook
Twitter
Google+
YouTube
Tumblr
LinkedIn
Pinterest
Vimeo
Flickr
Email
RSS feed
2. These days it's essentially a necessity to operate hub pages on the major social networks, as a way to communicate with users and customers across a range of mediums.